Nothing works up an appetite faster than a full day of adventures on the water. Waterskiing, wakeboarding, kayaking, tubing, and swimming all day can leave you starving for a delicious meal.
What better, or quicker, way to fill your belly than by grilling directly on the boat?
Is it Legal to Grill on a Boat?
Many first-time boaters, or watersports enthusiasts looking to spend more time on the water, often wonder if grilling on their boat is allowed. Is it possible? Is it frowned upon? Is it illegal? Not only is it possible, but it's encouraged and it's fully legal.
If you've been wondering how to go about grilling on your boat, wonder no more. Here are a few things to consider when deciding to fire up a marine grill while on the water.
Choosing the Right Boat Grill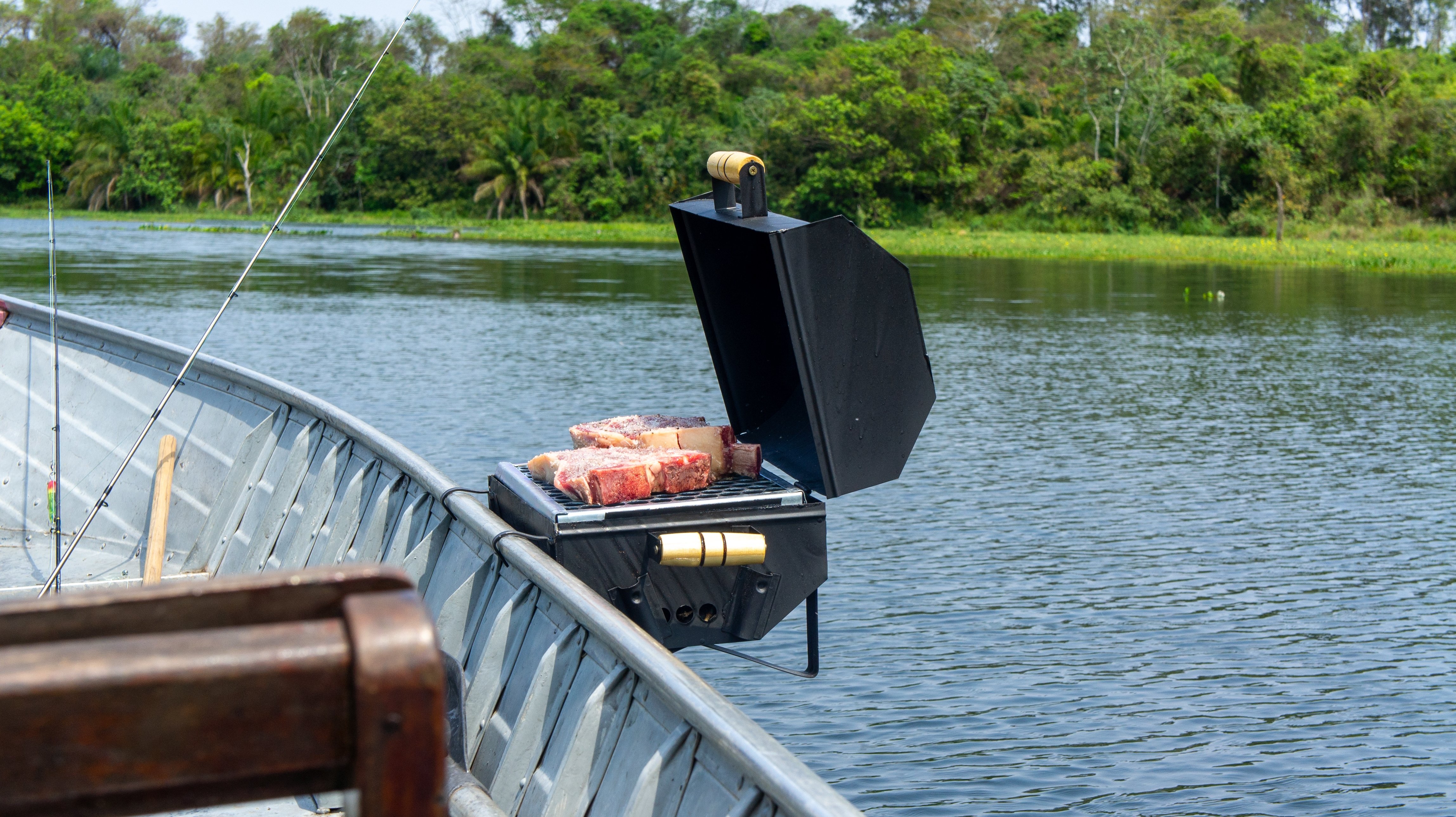 While you may love the charcoal grill in your backyard, charcoal doesn't perform very well on the water. Charcoal grills are best for cooking in dry conditions, which boats simply can't deliver because they're literally surrounded by water.
Electric and gas are the best options for marine grilling. Propane grills are the most common because of their convenience, even cooking, and dependability. Whether you use propane on land or not, you'll quickly learn to love it once you're grilling on the water.
A propane grill starts up quickly and easily, so you're able to start cooking when everyone is ready to eat. Temperature control is straightforward and user-friendly, resulting in evenly cooked meals, which can be hard to deliver with a charcoal grill.
The other factors to consider when choosing the right boat grill for your needs are size and construction. Obviously, it should be durable and solid, but how big should it be? It depends on the number of people you'll typically be feeding and if, or where, you plan to mount the grill.
Why Choose a Boat Grill Mount?
You can load and unload your grill each time you dock your boat, but why put yourself through the extra effort? Plus, why run the risk of a strong wind gust or random wake shifting your grill while you're in the middle of cooking dinner? Why potentially ruin the day's catch when you can almost guarantee its success instead?
A boat grill mount ensures that your grill is ready and waiting when it's time to fire it up. With a grill mount, you have a stable grilling environment that produces a delicious result every time you throw something on the grates.
The best part? As if it could get any better than tasty food, but it can. The installation process! Installing a grill mount is simple, as most attach directly to your boat rails. Whether your boat rails are flat or round, there's a mount that works with your particular rail style for quick and easy grilling right away.
If a boat mount is something you're not interested in, no worries. Try a pedestal mount if you desire the look and feel of a freestanding grill with the security and assurance of a mounted one.
Stock Up on Grilling Accessories
Of course, grilling isn't complete without some awesome grilling accessories. Unless you're planning on flipping fish with your hands, you'll need to stock up on grilling essentials like tongs, spatulas, and grill brushes.
Grill toppers are a great accessory for transforming your grill grates into a griddle. Perfect for everything from pancakes to crabcakes, you'll be able to grill every meal from breakfast to dinner without tasty morsels falling through the grates.
And don't forget grill covers. For the times when you don't have food on the grill, keep your grill covered from the salt air and wet elements with a quality cover. A grill cover also protects your grill from mildew and the constant, unforgiving sunlight.
Marine Grilling Safety Tips
Once you've chosen the marine grill that works best for your needs and your boat, there are safety tips you must take into consideration. Even though we're discussing this last, safety is a topic that always comes first when dealing with fire and water.
Before, during, and after you fire up the grill, remember these marine grilling safety tips:
Read the instruction manual. While it sounds boring, it's imperative that you read and understand the instruction manual that comes with your grill. Covering everything from assembly to proper use, it's crucial that you fully understand your grill for safe operation.
Never grill while underway. Only use the grill while anchored. Otherwise, you're putting yourself and those onboard in potential danger. One strong wave and your food could jump ship.
If the grill is lit, you must commit. Never leave a lit grill unattended. Once you've lit the grill, you're committed to standing by its side until the meal is done and the flame is extinguished.
An open flame must be in an open space. All grills are designed to be used in well-ventilated areas. Never grill under a deck or in an enclosed space. If grilling at a marina, abide by their rules as most marinas do not allow open flames. Also, make sure your bimini top isn't directly over your marine grill.
Make sure connections are tight and leak-free. When cooking with propane, it's imperative that you ensure the connections are attached correctly and free of leaks. Always have a fire extinguisher nearby in the event of an emergency.
As soon as you've finished cooking, put out the grill. Make sure the grill has completely cooled before covering or putting it away to ensure lingering heat doesn't spark an unexpected fire.
Clean your grill. Regularly, and thoroughly, clean the grates and internal parts of your grill to reduce flare-ups and fires. Empty grease traps after every grilling session.
Secure the grill before getting underway. If you're using a portable grill, make sure it has ample time to cool and is secured before getting underway. If you're using a mounted grill, make sure it has cooled and is covered before lifting the anchor.
Can You Grill on a Boat? Yes!
The question isn't CAN you grill on a boat, but more so WHEN  you will plan your next boat cookout. There are few things more delicious than a fresh catch thrown on the grill. The better question is: what's for dinner?
What are some of your favorite from the water, on the grill recipes? Tell us in the comments below!