An RV is quite possibly the best adventure base camp you could ask for. For lovers of kayaking, an RV kayaking trip can provide plenty of thrills while providing all the comforts of your home on wheels at the end of a long day of adventure.
When it comes to picking places to base that home on wheels while you adventure, proximity to water has to be high on the priority list, regardless of your recreational activity of choice. Of course, if you're close to the water you might as well bring a kayak or two so you can get out on the water and really enjoy it.
Kayaking is a great way to explore new waterways. Kayakers frequently see native wildlife, especially fishing birds, and it's an easy way to get exercise that doesn't take a toll on joints and ligaments.
If you're gearing up for your next RV vacation, make sure you consider these ten tips for an RV kayaking trip!
1. Choose Your Kayak Wisely
The type of kayak you choose depends on the type of paddling you intend to do. Whitewater kayaks are much different than touring kayaks, which tend to be more stable for beginners and are better for lakes and calm, flat rivers.
Inflatable kayaks are also great for lake and river use, and they are also much easier to store underneath or inside your RV once they're deflated. 
2. Safely Secure Kayaks to Your RV
Transporting kayaks is one of the biggest challenges of an RV kayaking trip. RVs are so tall that taking kayaks on and off the top isn't the best choice. However, there are several hitch-based racks that allow you to easily transport kayaks on the back of your RV. If you don't like that option, you should also check out a tow-along kayak trailer.   
3. Research Waterways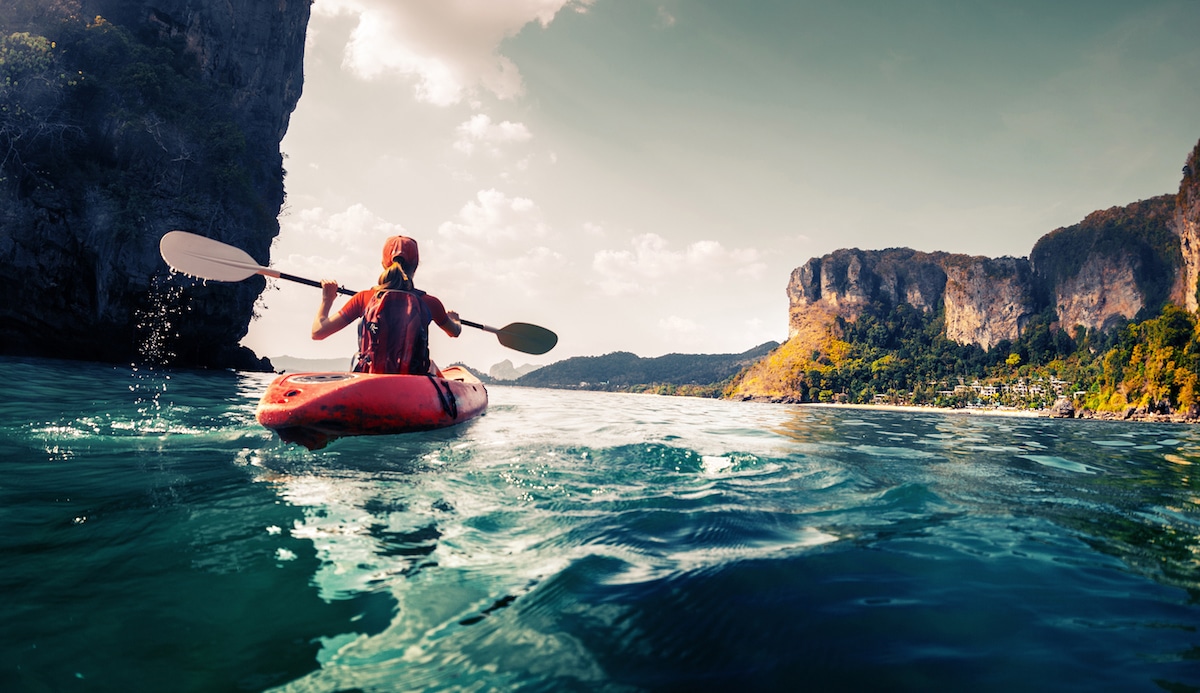 Experienced kayakers know that every waterway is different. Just because you've been kayaking a hundred times doesn't mean you don't have anything new to learn.
When traveling and paddling on new waterways, it's essential for your safety to research waterways before you paddle them. More often than not, you're also able to truly enjoy paddling on a waterway once you know a little bit more about it.
4. Find A Boat Launch Area
Carrying your kayak from your RV to the edge of the water is the most labor-intensive aspect of an RV kayaking trip. You definitely don't want a campsite that's far from the edge of the water, but finding a site right on the water isn't always easy.
When planning your next trip, look for campgrounds that are relatively close to an accessible boat launch area.
If the boat launch area is within walking distance of your campground and you have a lock and cable with you, you may even be able to unload your boats at the ramp and leave them securely locked there when you're not using them.
5. Be Safe
Safety is often overlooked when it comes to kayaking. It's essential that you obtain proper personal flotation devices (PFDs) for every paddler and passenger if you want to have a safe and fun kayaking trip.
You don't have to overspend on top-of-the-line PFDs, of course, but it pays to get the more "traditional" PFDs instead of the inflatable waist belts that are becoming so popular today. Not only are they more expensive, but they also do you no good if you're incapacitated and unable to inflate them.
When conditions change and you wind up in the water unexpectedly, you'll realize the immense benefits of a proper PFD, and you'll be happy to be able to focus on getting back into your kayak instead of using unnecessary energy just to stay afloat.
6. Keep Your Supplies Dry
Dry bags are a great addition to your gear collection for your RV kayaking trip. They provide a dry place to store additional layers for warmth or comfort and they also give you a place to store food and drinks when you go for a longer paddle. There's nothing worse than a wet lunch when you've been anticipating it throughout a full morning of paddling.
7. Stay Warm
Kayaking is a seasonal recreation activity. However, the proper equipment can significantly extend the length of the kayaking season and keep you warm and comfortable in cooler conditions.
Rainproof and windproof paddle jackets, proper fleece layers, neoprene gloves and booties, and paddle skirts are just a few examples of kayaking gear that'll help you stay warm in your boat.
8. Plan A Pick-Up In Advance
Just because you're traveling in an RV doesn't mean you can't pull off a point-to-point RV kayaking trip. If you're most interested in whitewater kayaking, you'll want to plan a pick-up at your desired take-out location well in advance. This will guarantee that someone is waiting to bring you back to the warmth and safety of your RV once you're ready to get off the river.
Better yet, you can find an RV campground right along the river where you can end your paddle. Then you just have to find a friend or willing accomplice to transport you upriver to your put-in spot.
9. Learn About Native Species
Learning about the native species living in and around the waterways you'll be paddling on is one of the best ways to enhance your RV kayaking trip.
Lakes, rivers, and oceans are almost always home to diverse animal populations. Many also serve as temporary stopping grounds for a variety of migratory bird species.
Knowing a few common species to look for during your next kayaking trip will make it more than just a paddle. It will be an animal identification adventure.
10. Seek Local Knowledge
All the online research in the world is no substitute for local knowledge, especially when it comes to exploring lakes, rivers, and oceans on your RV kayaking trip.
Kayaking does involve a certain degree of risk, but acquiring local knowledge about the waterways you plan to paddle on will go a long way towards making you as prepared as possible before you head out.
Seeking local knowledge also has the added bonus of connecting you more strongly to local people and culture.
---
There are thousands of miles of navigable waters in the United States—there's no time like the present if you're interested in exploring them on your own RV kayaking trip! Have any questions? Leave a comment below.